Internet porn is not like porn of the past. It affects the brain in a much more significant way. These two short videos explain how. They take the guilt out of the issue by explaining how susceptible the brain is, especially the adolescent brain, to the lure of this hyper-stimulating entertainment.
This 4 minute TED talk called "The Demise of Guys" by Stanford professor Philip Zimbardo looks at arousal addiciton'.
"The Great Porn Experiment" is a 16 minute TEDx talk by former science teacher Gary Wilson, that answers the challenge set down by Zimbardo.
The second video has been viewed almost 7 million times on YouTube and has been translated into 18 languages. An updated version of the TEDx talk is available as Gary Wilson's book in paperback or on Kindle, Your Brain on Porn: Internet Pornography and the Emerging Science of Addiction.
This section offers three ways to judge if internet pornography is causing a problem. First there is a simple quiz you can take. Second, there is a simple assessment scale based on the frequency and intensity of internet pornography consumption. The scale can be used for self-assessment or to work with someone else to see if they are being harmed. Third, there is a physical test to help men identify whether or not internet porn is a major component of any sexual performance problems they may be having.
Porn Consumption Scale
The following table sets out some self-assessment guidance. It covers levels of porn consumption and the impact that it may be having on you and the people around you. It is not meant to cover every situation, but should help you think about where porn is in your life and if it is leading to problems.
To assess how much porn is being consumed demands an honest conversation, even if it is only with yourself. Where is the true answer in the What is Happening? column.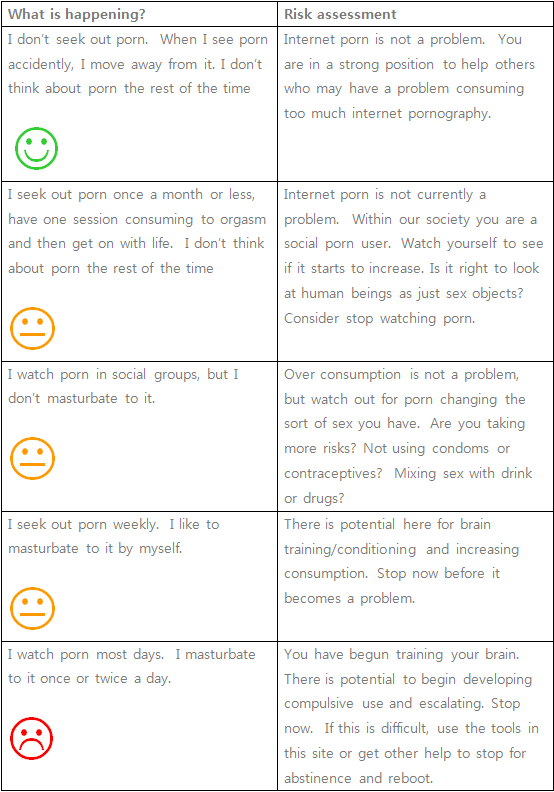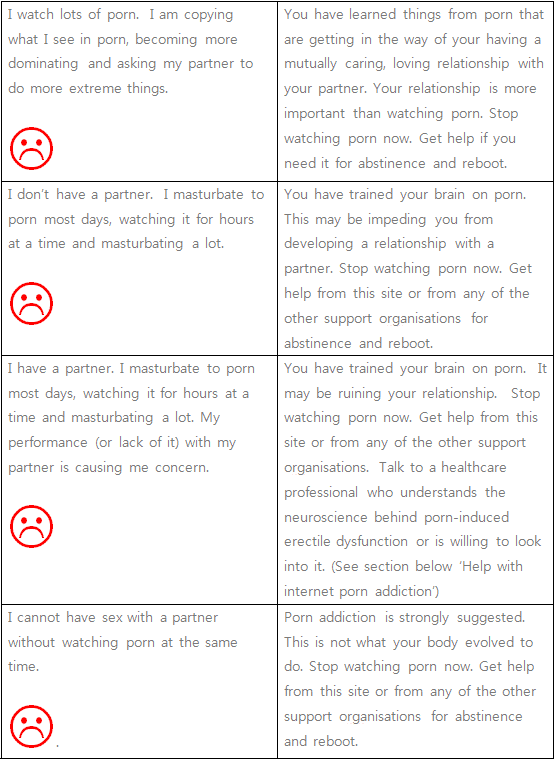 Remember that there is no real downside to not watching porn though the recovery period can be rocky if you have become snared by it. Virtually all former users find life improves greatly after porn stops being a part of their life.
Men's performance test
This is a simple do-it-yourself test for a man to see if porn is related to a sexual performance problem. It was developed by Gary Wilson to help men find out if their sluggish sexual performance is related to porn use or stems instead from performance anxiety.
1. First, see a good urologist and rule out any medical abnormality.
2. Next, on one occasion masturbate to your favourite porn (or simply imagine how it was if you've sworn off it).
3. Then, on another occasion masturbate with no porn and without fantasising about porn.
Compare the quality of your erections and the time it took to climax (if you can climax). A healthy young man should have no trouble attaining a full erection and masturbating to orgasm without porn or porn fantasy.
If you have a strong erection in #2, but erectile dysfunction in #3, then you probably have porn-induced Erectile Dysfunction (ED). You need to stop using internet porn. The Reward Foundation's three-step recovery model is recommended.
If #3 is strong and solid, but you have trouble with a real partner, then you probably have anxiety-related ED.
If you have problems during both #2 and #3, you may have progressive porn-induced ED or a below-the-belt problem for which you will need medical help.
When does porn addiction begin?
Gary Wilson poses the obvious question: "How much is too much?" on the yourbrainonporn.com website. He notes that this question presumes that porn's effects are binary. That is, you either have no problem, or you are a porn addict. However, porn-induced brain changes occur on a spectrum and cannot be classified as black and white, either/or. Asking where one crosses the line ignores the principle of neuroplasticity: the brain is always learning, changing and adapting in response to the environment.
Studies reveal that even a small amount of supernormal stimulation can rapidly alter the brain and change behaviour.
For example, it took only 5 days to induce marked sensitization to video games in healthy young adults. The gamers weren't addicted, but elevated brain activity aligned with subjective cravings to play. In another experiment, nearly all the rats given unrestricted access to "cafeteria food" binged to obesity. It took only a few days of gorging on junk food for the rats' dopamine receptors to decline (reducing their satisfaction). Less satisfaction drove the rats to binge even more.
As for Internet porn, this German study on men not addicted to porn found addiction-related brain changes and less brain activation to porn correlating with more porn consumed. An Italian study found that 16% of high school seniors who consumed porn more than once a week experienced abnormally low sexual desire. Compare that to 0% of non-porn users reporting low sexual desire. The take away is that addiction is not required for either significant brain changes or negative effects.
Put simply, sexual conditioning, sensitization, or other addiction-related brain changes, occur on a spectrum. Also realize that our brain is constantly learning and adapting to the environment. Internet porn, being a supernormal stimulus targeting innate sexual circuits, shapes the brain and alters perception.